Family fears for missing Bristol clubber Deakon Wilkins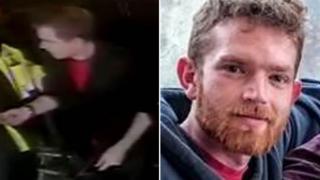 The family of a man who went missing after a night out 10 days ago have said they are "at their wits' end".
Deakon Wilkins, 24, from Weston-super-Mare, vanished after leaving Motion nightclub in Bristol in the early hours of 14 January.
His father Andrew Wilkins said family members were "trying to keep busy" but "didn't know what to do".
Avon and Somerset Police said it was "increasingly concerned" and using "significant" resources in its search.
Mr Wilkins said his son was last seen on CCTV leaving the nightclub at 04:30 GMT.
"Just as he was leaving, he [left a voice mail] and he sounds coherent and he doesn't sound drunk at all," he said.
"We're at our wits' end we don't know what to do now."
'Just hope'
His mother Marcella Wilkins said someone has "got to see him soon".
"Every day is a long day - if you hear the phone go or a knock on the door you just hope," she said.
Mr Wilkins is described as 5ft 10in (1.78m) tall, medium build with ginger hair and a tattoo between his neck and chest that says 'Rush'.
When last seen he was wearing a red fitted jumper, black smart blazer, dark jeans and red trainers.
His parents will be distributing leaflets about him in Bristol city centre later.