Concorde memories sought by Bristol museum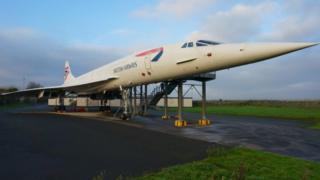 People are being asked for their memories of Concorde's final flight.
Aerospace Bristol wants to hear from anyone who saw the 216 jet when it touched down for the last time, in Filton on 26 November 2003.
The supersonic plane will be the centrepiece of the new £16m Bristol Aerospace Centre museum that is under construction and due to open in 2017.
Iain Gray, from Aerospace Bristol, said he wanted Bristolians "to share their memories of that historic day".
Mr Gray said: "We want to celebrate the innovation and endeavour of those generations who went before us but also, look forward, to inspire the imagination of our young people through our learning and activity programme and to [encourage them to] consider careers in our aviation industry."
The supersonic jet has been parked on a runway in Filton since its farewell flight over its home city of Bristol.
The museum, which will be built around a listed World War One hangar, will feature a purpose-built exhibition hall for the jet.