Triage service at Bristol Royal Infirmary suspended after death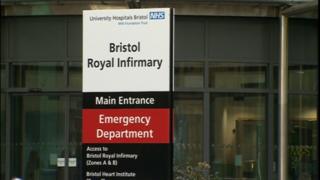 A new service aimed at cutting pressure on a hospital's A&E was suspended after four days following the unexpected death of a patient, it has emerged.
The Front Door scheme at the Bristol Royal Infirmary assessed a man on 13 November and decided he did not need to be referred to the emergency department. He died two days later.
Service provider BrisDoc said a "thorough investigation" was under way.
It also expressed its "sincere condolences" to the man's family.
'Sad death'
The Front Door pilot was based at the BRI's Adult Emergency Department - and open seven days a week between 14:00 and 20:00.
People who turned up at the A&E department would be seen by a primary healthcare professional, who would then decide whether patients should see their GP or be treated at the Emergency Department.
A spokesman for the NHS Bristol Clinical Commissioning Group said: "We are very sorry to hear of this sad death.
"We are actively working with our partners at BrisDoc to understand the full circumstances of the gentleman's assessment and treatment."