Great Western Air Ambulance secures new base and £1m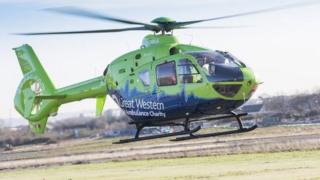 An air ambulance charity says its future is now secure by finding a new base after a four-year search.
Planning permission for a new hangar for the Great Western Air Ambulance (GWAA) at Almondsbury in South Gloucestershire has been granted.
The charity urgently needed to relocate due to the redevelopment of its current base at Filton airport near Bristol.
Its chief executive said the move meant medical crews can continue to save lives for years to come.
John Christensen said the permission was granted in the same week as the charity received a "welcome financial boost", via a £1m grant from the Libor fund.
"Finding a new base has been a long journey for us, and I am glad that it is now finally over, and we can begin work," he said.
"Our main focus has been to find a site that is easily accessible both by helicopter and car, and the Almondsbury site was the only viable option."
The air ambulance service operates in Bristol, north Somerset, South Gloucestershire, Gloucestershire and parts of Wiltshire.
The new modern hangar will house the GWAAC helicopter alongside the police helicopter.
Work on the base will begin in early 2017 and the charity hopes to be operational from the site by the end of the year.