Drivers face delays after burst pipe tears hole in road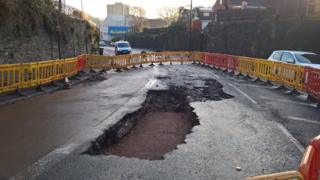 Drivers have been warned to expect delays for several days after a burst water pipe tore a hole in one of Bristol's busiest roads.
The 10-inch (25cm) pipe fractured on the A4 Bath Road on Saturday cutting off hundreds of homes in the Brislington area of the city.
Bristol Water said repairs were likely to take several days.
Two-way temporary traffic lights are in place and will remain in use while the work is carried out.
Although the leak has been fixed, Bristol Water said the burst main had caused "significant damage" to the road.
Spokesman Rob Ellis said: "The main was fixed fairly quickly on Saturday, the road was closed for a while and the lights went in yesterday.
"We are hoping it will take just a few days but they will still be there today, most likely tomorrow and hopefully we will be able to remove them Wednesday if all goes well."