A4 Bath Road 'badly damaged' after water main bursts in Brislington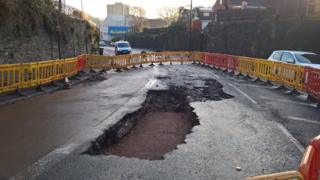 Motorists are being warned of long delays on one of Bristol's busiest roads.
A 10-inch (25cm) pipe fractured on the A4 Bath Road on Saturday, cutting off hundreds of homes in the Brislington area of the city.
Although the leak was soon fixed, Bristol Water said the burst main had caused significant damage to the road.
Bristol City Council said two-way temporary traffic lights are being used while repairs take place.
But Bristol Water warned that this could take some time.
"We are speaking to the council... to see what is the safest way to proceed with the repairs," he said.
Diversions are in operation, but drivers are being warned to expect delays during Monday's rush hour.