Bristol Harbour Finzels Reach bridge brought in by barge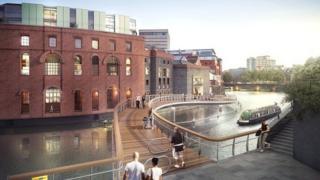 Work has begun on installing a new £2.7m footbridge across Bristol's floating harbour.
The structure, set to link Castle Park and Hawkins Lane, is being carried by barge in 20-ton sections which will then be craned into place.
The 'S' shaped bridge was approved by city council planners despite concerns it would be "visually intrusive".
Developers said it will provide a pedestrian and cycle route to the planned Finzels Reach development.
The final large section of the bridge is expected to be lowered in to place on Thursday.
A section of the River Avon from Bristol Bridge to Temple Meads will be closed for about two weeks.
Following the bridge's installation, final works and testing will be carried out to ensure it is robust enough for the thousands of people expected to cross it each week.
Developers Cubex expect the bridge to be open to the public in early 2017.