Bristol's St Pauls carnival return 'hopeful'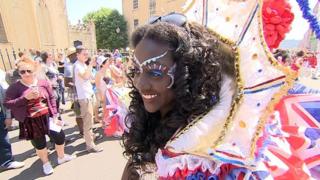 Bristol's deputy mayor says she is "hopeful" funding will be awarded, which would see the return of an African-Caribbean carnival.
St Pauls Carnival, not staged since 2014, grew beyond organisers' means, Bristol City Council said when funding was withdrawn.
A new community partnership has been formed to run future events, and next year's carnival is planned for 1 July.
Bristol mayor Marvin Rees is widely expected to approve funding next week.
Deputy mayor Estella Tincknell is "hopeful" it will go ahead and said: "We want to make sure the carnival is on a sustainable footing for the future."
Dating back to the 1960s, the annual carnival was designed to be a celebration of the city's African-Caribbean culture which is normally held in July.
'Committed team'
It was run by St Pauls Afrikan Caribbean Carnival (SPACC) but in the past five years it has been cancelled three times.
The group was criticised by former mayor George Ferguson who said the "major event" now needed an organisation to "match up" to it.
He said funding would be "ring-fenced" until the event was in "proper hands", and a commission was set up to formulate recommendations for its future.
These include making the event smaller in scale with a greater emphasis on security, and a new community interest company has been formed to run it.
The commission's Jules Davis said there was a "committed team" ready to bring the carnival back to "full strength, reimagined, rebirthed, revitalised back on to the streets of St Pauls every first Saturday in July".
"But we recognise we also have to do things more smartly, and that's just good business," he added.