Lost Banksy Spy Booth mural 'not saveable' says council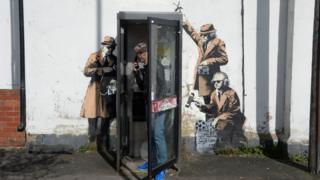 A Banksy artwork removed from the side of a listed building could not be saved, a council has said.
Spy Booth, which depicted 1950s-style spies "snooping" on a phone box, disappeared from a wall in Cheltenham in August.
Cheltenham Borough Council said it had "crumbled and cracked to pieces" while remedial works were carried out.
A spokesman said any action to punish the owner would not be in the public interest.
Spy Booth appeared in 2014 on the side of David Possee's end-of-terrace property in Fairview Road three miles from government intelligence centre GCHQ.
The piece gained listed status in 2015 after Cheltenham Borough Council granted it retrospective planning permission.
Since it appeared it has been fought over, defaced and vandalised several times.
News of its demise emerged after a social media post appeared to show the mural being cut down behind a tarpaulin.
Work had been taking place to repair plasterwork on the wall of the house after the council had issued an enforcement notice and at the time Mr Possee said the artwork had fallen away with bad render.
A council spokesman said: "We are satisfied that the owner's contractors had made every reasonable effort to save the mural from damage.
"The mural was not salvageable, as large areas of the external render to the building were defective.
'Not proportionate'
"Over time, the render had shrunk and cracked allowing damp to penetrate and leading to the render becoming loose."
Local people had campaigned to save the artwork after an apparent attempt to remove it for it to be sold in July 2014.
In January this year the Grade II-listed house was put for for sale.
The spokesman added: "The council regrets that it was not possible for the Banksy to be retained as public art, but this proved impractical due to the overall condition of the building.
"Any feasible action against the owner in relation to the Banksy would not be proportionate or in the public interest."