Faulty firework caused it to fall on Bristol crowd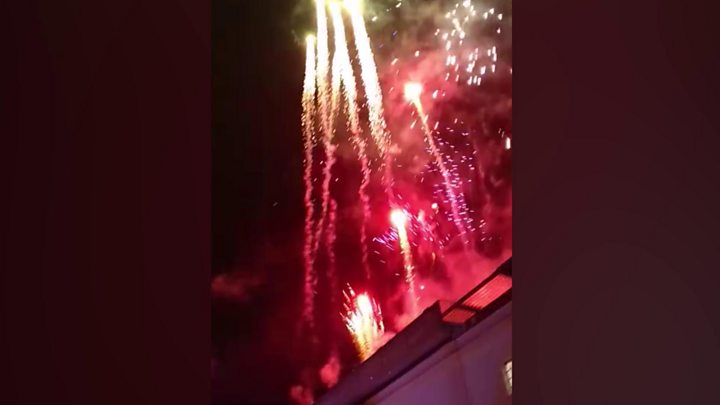 Organisers of an event where a firework landed in a crowd have said the explosive had an internal fault which "could not be foreseen".
Videos posted on social media appeared to show two fireworks land among spectators at the event in Bristol's Millennium Square on 3 November.
Organisers At-Bristol said full risk assessments were taken. Nobody is believed to have been injured.
The firework's manufacturer said it was yet to receive a report.
At-Bristol, who have investigated the incident, said the manufacturers were informed and the type of firework was not used again in subsequent shows.
They said: "At-Bristol has concluded that full measures were taken in terms of event management.
"The particular firework incident could not have been predicted or foreseen."
'No problems before'
The organisers also said the firework in question, the 16 Shot Flash Harry, is available for sale to the public.
A spokesman for the manufacturer, Alconbury-based Celtic Fireworks, said the firm is yet to receive a report on the incident so could not "comment on whether it was an operator fault or the firework itself".
The company said the firework is its smallest model available to the public and commercial operators.
Alan Christie, managing director of Starburst who ran the event on behalf of At-Bristol, said 80% of the fireworks he uses are made by Celtic and he has never experienced problems before.
He added that with fireworks, even if the product is made perfectly, there is still no way of knowing they will malfunction until they're ignited.
At-Bristol's report recommended more staff should wear high visibility jackets and keep the public better informed if anything were to go wrong in the future.