Fuel poverty: How can UK tackle cold homes and high bills?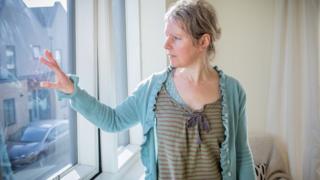 One in ten families in the UK face heating bills they cannot afford this winter, BBC analysis of official figures suggests. That's 2.6 million households that have a difficult choice about when to fire up the boiler. What's the answer?
When the temperature drops and the chill sets in, people in the UK are more likely to feel it in their homes than their continental neighbours. In European surveys comparing 16 countries with similar climates, the UK was near the bottom.
Why? Because it has the draughtiest windows and least insulated homes. For many families that means the moment they turn off the heating, the warmth goes out of the windows.
Analysis by the Association for the Conservation of Energy reveals UK windows are the leakiest of 11 northern European nations. Floors rank slightly better, at 10th out of 11. Only Dutch flooring is worse.
Living in a leaky home
Badly insulated windows and walls
15.9%
of population in the UK
13.2% of France

5.2% of Finland
Thinkstock
Dr Joanne Wade, the association's CEO, says the situation has turned the UK into the "cold man of Europe".
"There are far too many people living in housing that does not offer them warmth and comfort, failing to support their health," she adds.
But for a lucky few on low incomes, it is possible to stay warm on just 15 minutes a day.
Some of them live in Bristol. In many ways, the city is typical of British warmth waste. Lockleaze, in the north of the city, is one of the city's most deprived neighbourhoods and has the kind of homes that frustrate energy conservation experts.
The area has recently undergone renovation. Around one of its big squares there is fresh grass and a new children's playground. It boats a small parade of shops and streets of 1950s-built terraced houses.
For people living on a low income, poor insulation means money out of the window. Many pop into the North Bristol Advice Centre on the square to see what help they can get from Jenny Hudson, who runs a money advice clinic there.
How many of her clients struggle with heating bills? "That will be all of them", she says bluntly. "I visit people in the middle of winter who have not had their heating on at all, and it's freezing.
"They need new boilers, new windows, insulation - but they just can't afford it."
Improving the insulation on millions of draughty homes is a huge challenge. But in Bristol some solutions are on the horizon.
1. Fuel vouchers - the temporary fix
When Carol Keene ran out of money to feed her electricity meter, she went to her local food bank.
Visitors to the volunteer-run service at a Baptist church hall in North Bristol can choose from tins of food and a few fresh vegetables laid out simply on a trestle tables.
But as well as picking up vital groceries for her two-year-old daughter Elsa, Ms Keene can now also collect a £49 fuel voucher.
The scheme is carefully monitored and claimants can only be given vouchers three times in six months. But for Ms Keene, it meant she could turn the heating on for another month.
"I just have to get gas, electric and food in. I can't get anything for myself, can't afford it," she says.
Ms Keene works about 16 hours a week as a security guard because any more costs too much in childcare. She hopes to earn more and find a friend prepared to care for Elsa. But in the meantime, the vouchers are a start.
---
How are 'unaffordable' fuel bills defined?
There are several different approaches. Some surveys simply ask people if they can afford their fuel bills, while others measure how much a family spends on energy - this measure classes more than 10% as being in "fuel poverty".
The BBC has used the most conservative estimate, used by the Department for Energy. This counts families already classed as living below the poverty line, and asks how many of them have above average fuel bills.
---
The Trussell Trust is opening so-called "fuel banks" in 30 towns and cities across the UK, handing out about 50,000 vouchers.
The scheme is paid for from fines levied on the big energy firm nPower in December 2015, for poor handling of customer complaints.
But just as the food bank is not a permanent solution to poverty, organisers say the new fuel bank is only a stopgap. For a longer term solution, Ms Keene needs a better insulated home.
2. Insulation, insulation, insulation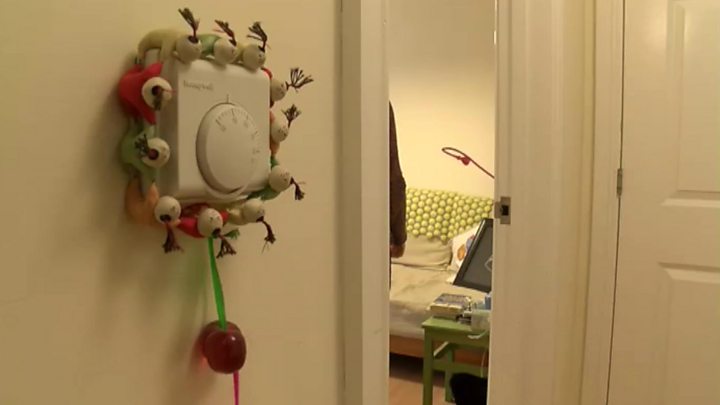 Coo Geller also lives on a tight budget and also can't afford to run the boiler too often. As an artist, she spends all day at home in her workshop hand-printing cards. But she rarely gets cold.
On a cold day in early November, it's 5C outside with frost on the ground. But Ms Geller only turns on her heating for 15 minutes early in the morning and her home remains pleasantly warm. The secret? Insulation.
"This house is amazingly insulated, all the windows are double glazed, it just holds on to the heat," she explains.
Her home is part of a two-year-old building owned by housing association United Communities. The walls have the latest cavity insulation, every gap is filled and the homes have a constant ventilation system to keep air moving.
Homes are rated for energy efficiency from A to G. Coo's home is A-rated, one of 298,000 in the country - or 1.3% of all UK homes.
Chief executive Oona Goldsworthy is ashamed of the draughty homes the association owns in the city but is proud of its new development, so invited sustainable architecture enthusiast Kevin McCloud to take a look around. He was impressed.
But the new building is surrounded by old 1950s houses, which the TV presenter says are much harder to improve.
"There's often no cavity in the walls, it's difficult to get the insulation in," he says.
"You have to move people out, it's just much trickier to do - but we have to do it. And no government has managed it yet."
In 2000, Parliament voted to end so-called fuel poverty by 2016. That milestone has passed, the pledge unfulfilled.
But the latest official figures do show some progress. In the last 10 years the number of homes rated A to C has risen from 4% to 26%, which is just over six million flats and houses.
The average home is a D-rated property, viewed by most experts as borderline for fuel efficiency.
But 5.2 million homes - or 22% - are rated unsatisfactory for energy efficiency. That means one in five of all households need their lofts lagged.
And that raises yet another strand in the tangled web of keeping Britain warm.
3. Loans for lofts
As well as being more straightforward to build, new highly-insulated buildings are also easier to finance.
"If we borrow money to build a new building, we raise new rent to pay for it," says Ms Goldsworthy. "If we borrow money to improve an old building, we don't get any more rent to pay for it, so no-one will lend to us."
Housing associations can borrow small amounts, offset by the reduced maintenance bills that better-insulated homes may produce. But the main benefit is to tenants, in lower fuel bills. And that earns the housing association no financial return.
Now there may be a new solution to this problem.
Triodos Bank, an ethical bank based in Bristol, is launching a £15m Sustainable Housing Loan specifically for housing associations. They must use the money to insulate their buildings, and make them more energy efficient.
It is, effectively, a loan for lofts.
The move is not altruistic. Triodos is a commercial bank, but has a different purpose, according to Bevis Watts, its managing director.
"All our money comes from individuals who care about making a more sustainable and fair society - they get a fair return, and the housing associations get money to improve their old buildings," he says.
Because its savers are ethically motivated, Triodos can offer them lower rates of return and in turn can charge housing associations lower interest rates.
As well as financial experts, Triodos employs environmental assessors. They have been working for years on green building schemes, and will assess whether proposed insulation schemes will be effective or not.
"We know this is a massive problem, and we have to get working on these old buildings as soon as possible," he adds.