Bristol Muslim leader Farooq Siddique has rape charges dropped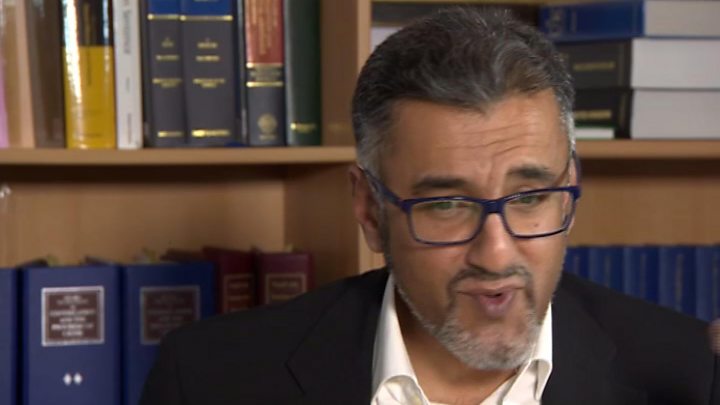 Rape and assault charges against a community leader have been dropped more than two years after his initial arrest.
Farooq Siddique, 46, was charged with three counts of rape, two counts of assault causing actual bodily harm and one charge of making a threat to kill.
Mr Siddique from Bristol said: "My whole world had just fallen in."
The charges were dropped at a Bristol Crown Court hearing on Wednesday due to no evidence being offered.
'World imploded'
During the hearing, the Crown Prosecution Service (CPS) was criticised for the length of time it took to offer no evidence against Mr Siddique.
Mr Siddique, who has been a public representative of the Bristol Muslim Cultural Society and was part of Tony Blair's radicalisation think tank, said: "It was like a dream, it was surreal. I wouldn't wish these past two-and-a-half years on anyone.
"My life, my reputation, my career, all of it has just imploded.
"It doesn't matter that it's all been proven to be nonsensical, the reality is the impact it's had on me, on my family.
"I said to [the police] on day one, 'everything you're asking me, every question you're asking me, everything you're alluding to, the answer to everything is on my phone, please check my phone, this will be over'.
Mr Siddique was involved with various charities but said he lost work with them as a result of the allegations.
'Put up bait'
"I was so confident I didn't even take a solicitor into the interview, I just thought this would blow over in a few days, a week, a month."
He believes people should not be put off reporting allegations to the police.
Mr Siddique said: "If women are suffering whatever abuse, physical, emotional, psychological, then of course they need to come out.
"Of course they need to be encouraged and supported but we don't need to do this, to put up bait like I was."
He is now considering supporting a campaign to change the law to stop the naming of suspects until conviction.
'Complicated offence'
Alison Longhorn from the CPS said: "The CPS has a duty under the Code for Crown Prosecutors to keep cases under continuous review.
"During a review of new evidence which came to light we were no longer satisfied that there was sufficient evidence to provide a realistic prospect of conviction."
She added that rape continued to be "one of the most complicated offences to prosecute" and her team was "continuously working with police partners to improve the quality of evidence and case files".
She also said the CPS was "encouraging the use of early investigative advice before charge".