Bristol car park sex assault: Man jailed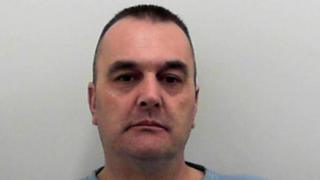 A man who sexually assaulted a "straight young man" in his car after offering him a lift and coercing him to take drugs has been jailed.
Gary Taylor, of Bath Road, Bristol, was sentenced to three years after admitting to sexual assault and causing a person to engage in sexual activity.
The court heard Taylor, 49, had driven his victim to a car park, given him the drug GBL and sexually assaulted him.
Taylor will be on the sexual offenders' register for an indefinite period.
Bristol Crown Court heard, the 21-year-old man was on his way to his girlfriend's house in Bristol in the early hours of 21 July, when he was offered a lift.
Judge Peter Blair QC, said Taylor's "sole intention" for picking the young man up was to have "sexual contact" with him.
"He was a straight young man and with the use of two different drugs, that he consumed with your persistence, he became in a state that he was unable to resist your sexual advances," the judge said.
"One can only imagine how disgusting that would make him feel and how dirty."
'Degrading sexual offences'
DC Neil Wood said, Taylor "plied" his victim with GBL and committed "degrading sexual offences on him" in the car before leaving him in a supermarket car park.
He said: "This was a terrifying ordeal for the victim who has shown remarkable reserves of courage and strength."
In an impact statement, the victim said getting into the car had been the "worst decision" he had ever made.
"I'm not a violent person and have never really wanted anyone to come to any harm but I feel that no punishment that the court can give him will make him feel the pain that I have felt," he said.
Taylor was also given a Sexual Offences Prevention Order.