Sean Turner case: Heart death boy 'not given best chance'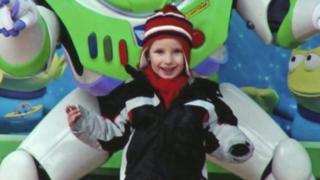 A four-year-old boy who died at Bristol Children's Hospital was "not given the best possible chance of survival", a report has found.
Sean Turner died six weeks after receiving corrective heart surgery.
A Parliamentary Health Service Ombudsman inquiry found evidence of "service failure" and said the hospital was guilty of "maladministration".
University Hospitals Bristol NHS Foundation Trust said it was "sorry" for its failings.
Sean, from Warminster, Wiltshire, suffered a brain haemorrhage and cardiac arrest in March 2012, six weeks after he underwent corrective heart surgery.
He was left so seriously dehydrated in hospital that his parents found him sucking on wet wipes.
The 223-page report found his fluid levels were not monitored properly, describing failings in nursing care as "systemic".
It also found his parents were misled about the hospital's high dependency capabilities.
The report concluded: "We find that these failings mean that the care and treatment the trust provided for Sean, and the support Mr and Mrs Turner received, fell so far below the applicable standards and established good practice that it amounted to service failure."
Sean's parents Steve and Yolanda blamed doctors and nursing staff for transferring their son from intensive care too soon and for missing the signs of his worsening condition.
A coroner ruled the hospital had not failed Sean, but his parents disagreed. They claimed more than 30 families had contacted them to say they too had lost a child at the hospital.
They contacted NHS England which commissioned an investigation.
The subsequent report, published in June, identified that children receiving cardiac treatment at the hospital were repeatedly given poor care and their parents let down.
But Mr and Mrs Turner said they were "disappointed" in the NHS investigation, and felt that in their son's case elements were "whitewashed over, ignored".
Sean Turner timeline:
January 2012 - Four-year-old Sean admitted to hospital for heart surgery
March 2012 - Sean dies following complications after his operation
January 2014 - A coroner rules the hospital "lost opportunities" to help Sean but did not fail him
February 2014 - Review launched after Sean's parents tweet the NHS's medical director asking him to "sort this out"
June 2016 - An NHS England report finds care on the ward did not amount to service failure. Sean's parents say the report "did not go far enough"
Mrs Turner said she was now relieved to "have some truth".
"The PHSO (Parliamentary Health Service Ombudsman) actually seem to have investigated. For the first time we feel like we are closer to the truth.
"It highlighted 22 areas of failings, but it also confirmed the hospital had not been open and honest with us.
"It's upsetting for us to read, but it's what we knew, because it's what we said all along."
The chief executive of the trust, Robert Woolley, said he was "deeply sorry" for the failings in care and for the impact they had on Sean and his family.
He added he was also "very sorry that we compounded their grief by giving inaccurate and incomplete responses to their subsequent complaint".