Police horse Redland retires after 13 years of service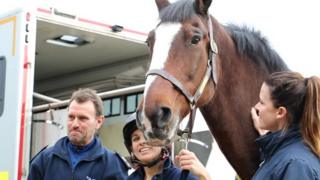 A long-serving police horse has been retired from service after more than 13 years of duty.
Redland, an Irish Draught cross, has been deployed at football matches, demonstrations, the Olympics and a royal wedding during a 13-year career.
Now an "old gentleman" of 19, Avon and Somerset Police said it was time for his "well-earned retirement".
A police spokesman, said with his "laid back" and "bomb proof attitude" Redland would be "greatly missed".
Standing at 17 hands three inches, Redland was signed up by the mounted section in 2003 at the age of six.
Along with an invite to the wedding of Prince Charles and Camilla, Duchess of Cornwall his duties have included policing Glastonbury Festival, the London 2012 Olympic Games and the Bristol riots.
"Redland has been a very faithful, reliable police horse and is loved by every member of staff," said Jonathan Green, from the force's mounted section.
"It will be sad to see him retire and he will be greatly missed by all."
Redland has been reunited with former police horse and "working colleague", Beaufort, who retired to the Bristol-based horse rescue charity HorseWorld in 2014.