Suspected migrants found in lorry in Bristol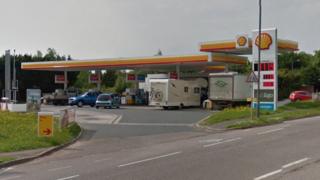 Seven suspected migrants, including two children, have been found in the back of a refrigerated lorry in Bristol.
Police said they discovered after the lorry driver alerted staff at a service station in Badminton Road, Downend, at about 15:30 BST on Saturday.
A police spokesman said: "A lorry driver had approached staff as he believed there were people in the back of his vehicle.
"On inspection, five adults and two children were found inside the lorry."
The group was checked over by paramedics at the scene but no-one needed further treatment.
Three men were detained for immigration offences and taken into custody.
A family, including two young children, were taken into the care of the local authority.