Bristol Rovers worker makes Facebook food threat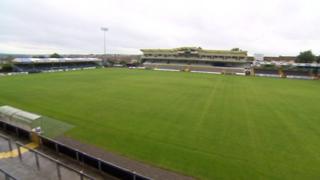 An agency worker who threatened to harm supporters of Bristol Rovers Football Club by tampering with food could face criminal charges.
The Bristol Post reported the threat was posted on Facebook ahead of Saturday's match against Gillingham,
Bristol Rovers' security team was made aware and the man was escorted off the premises.
The man said he was a supporter of Rovers' rivals Bristol City and he planned to deliberately undercook food.
A club spokesman said: "The agency has been informed of the matter and it's possible that criminal proceedings will be taken against the person involved.
"We take the safety of all supporters very seriously. We were able to take swift action on Saturday to prevent anyone coming to harm."