Bristol church fire 'started deliberately'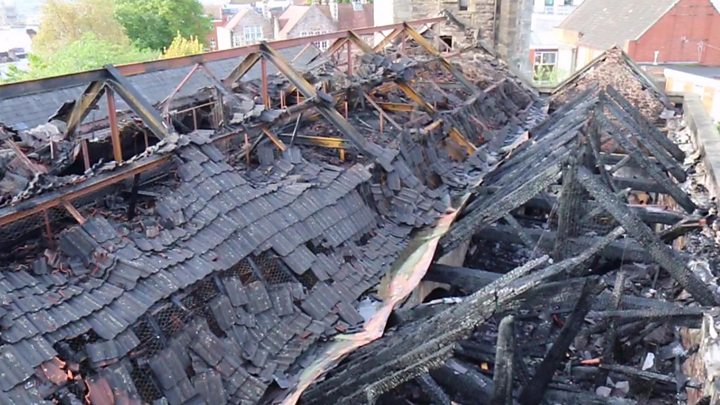 A fire that partially destroyed a church in Bristol was "started deliberately", the fire service has said.
Fire crews were called to the empty St Michael on the Mount Church on St Michael's Hill on Sunday afternoon.
Avon Fire and Rescue Service said about two thirds of the roof was destroyed with the rest of the building left largely intact.
Despite fears squatters were in the church, no-one was inside at the time.
Artefacts destroyed
A fire service spokesman added that some wooden pews and artefacts had been destroyed, as well as about one third of the mezzanine floor near the entrance to the church.
A large amount of smoke was seen coming from the building at the height of the fire. Crews said this was due to the blaze burning a large hole through one part of the church roof.
The Grade II-listed building - parts of which date back to the 15th Century - has been empty since the 1990s, when it was closed due to a dwindling congregation.
However, it was used up until six months ago for bell-ringing practice by the University of Bristol Society of Change Ringers.
Bell-ringer Richard Webster said: "The church has been the home of that society since 1947. The church is not in use and hasn't been since the 1990s but we still rang there - I guess not any more.
"The last time was six months ago but we tried to keep the bells ringing there as much as possible."
The Diocese of Bristol, which owns the building, said: "St Michael on the Mount Church on St Michael's Hill is a closed church that the Diocese of Bristol working with the Church Commissioners have been managing and seeking a use for.
"We are assisting the Fire Service and the Police with their investigation."