Bristol photographer captures Bedminster characters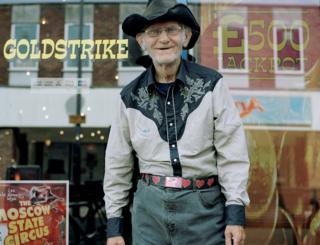 Photographer Ibolya Feher rarely leaves her house without her camera.
She has photographed some of the more colourful characters who shop on her high street in the Bristol suburb of Bedminster.
"A lot of people put a lot of effort into dressing up in Bedminster," she said, "I don't see it in other parts of Bristol."
"I often just ask people if I can take their picture because I really like their hat," she added.
An outdoor display of East Street Tales runs until October 22.
The photographer captures some of the characters she sees on a daily basis on East Street in Bedminster, including this man who takes his two pet chickens for a daily walk.
"I find myself going to people who dress differently but that doesn't give an overall picture of people in Bedminster. So there is a little bit of a dilemma as, being a photographer, I like to be objective," said Ibolya.
The BBC has gathered some of the most beautiful and interesting photographs from across England on its Pinterest board.