Bristol hosts 'Oscars' for wildlife TV stars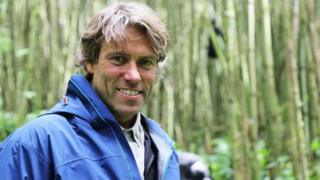 Wildlife film makers from around the world are in Bristol for the Panda Awards, considered as the Oscars for natural history television.
The Pandas have always been held in the city as it is the creative hub globally for wildlife documentaries.
Out of the 43 nominations, more than a third have been the work of production companies based in and around Bristol.
Broadcaster Sir David Attenborough will be opening the event at Colston Hall, which begins at 18:00 BST.
This is the first time the Panda awards have featured more independent producers than BBC and in-house films.
One of the nominations is for comedian John Bishop's Gorilla Adventure which aired on ITV in November.
Of the 43 titles (out of nearly 1,000 entries) still in the running for Panda Awards, more than a third are the work of companies based in or around Bristol.
---
Wildlife programming in Bristol:
Film & TV contributed over £20m to the Bristol economy in 2014/15
Much of the £20m comes from overseas sales of nature programmes, mainly to Europe and US
Bristol makes about 40% of the world's total TV and film input for wildlife films
Out of the 141 Bristol firms involved in TV and Film, many specialise in wildlife documentaries
Research by the University of the West of England
---
Researchers at the University of West of England found the advantages of setting up a production company in Bristol were due to the facilities and resources available, the proximity to London and lifestyle factors such as affordability of housing.
Director of Silverback Films in Bristol, Keith Scholey, said: "If you want to work in feature films you have to go to Hollywood.
"If you want to make wildlife films you have to come to Bristol. It is the world centre of the wildlife TV industry."
His production company has been nominated for six awards across various categories.
"We employ 50 people and hire about another 50 freelances, and we're just a small firm. There are another 15 like us," added Mr Scholey.
"Only 6% of our income comes from the UK, the other 94% is from America, Europe, Japan. We bring a lot of money into this city."