Cash raised to bring quad bike teen crash victim home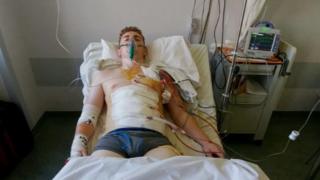 A fundraising campaign to help the family of a teenager who was badly hurt in a holiday quad biking accident has been reached in just over a week.
Lewis Evans, 18, from Thornbury near Bristol, suffered "devastating injuries" when he came off the bike on the Greek island of Zante on 3 October.
Mr Evans had holiday insurance but it did not cover quad biking.
An online fundraising campaign to raise £30,000 has now been reached to bring him home in an air ambulance.
It was set up by his parents after his insurers said he was not covered for "dangerous sports".
His great-aunt Sue Turl said: "Lewis has had devastating injuries.
"He's been diagnosed with a ruptured spleen, a very large hole in one lung and a not-so-large hole in the other lung."
She said he also had several broken ribs and two bad breaks to his shoulder.
His parents were told to "expect the worst" and flew out to be with him, though his condition is now described as "stable".