Bristol Arena project delayed until 2019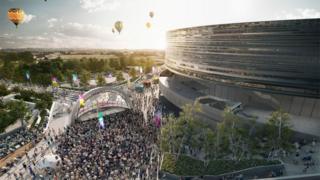 The planned opening date for Bristol's long-awaited arena has slipped again, until 2019.
The delay was revealed by Mayor Marvin Rees in the annual state of the city speech on Thursday evening.
The 12,000-seat venue near Temple Meads was originally due to have been finished by late 2017. A delay until 2018 was announced last year.
Mr Rees said he "intended to deliver" the £92.5m arena by 2019, but warned against spiralling costs.
During his annual state of the city speech Mr Rees also said discussions had begun to bring back powerboat racing to the city docks, and he announced plans for a new fleet of buses for the city.