Campaigners save nursery from eviction by council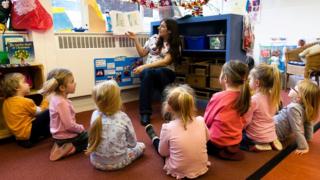 Parents and staff are celebrating after a nursery was granted a stay of execution.
More than 1,000 people signed a petition to save Rocking Horse Day Nursery in Warmley, near Bristol, after South Gloucestershire Council announced plans to close it in December.
But at a meeting on Wednesday, councillors voted unanimously to extend the notice period.
The decision will give the nursery time to secure another home.
Nursery owner Julia Davies said: "We are over the moon with this decision - we were always going to struggle to complete a move within six months and it left us facing a very uncertain future indeed.
"We are now working hard on securing a new home in order to provide continuous and ongoing nursery provision in the area."
The family-run nursery, which caters for 70 pupils from babies up to school age, has operated out of the Grange School site for 25 years but the council wants the land back.
When the council served notice in June, staff and parents were concerned children would be left struggling to find an alternative nursery place.
As a result of the campaign, it has been offered an alternative site by the Sir Bernard Lovell Sports Centre but estimates it will take at least six months to complete the move.
Campaigner Laura Williams, whose son Jackson, three, has been at the nursery since he was a baby, said: "Everybody was in tears of relief after the meeting as we weren't expecting good news."
Councillor Matthew Riddle, chair of South Gloucestershire Council's Policy and Resources Committee, thanked the campaigners for bringing the issue to their attention.
He said: "We wish you well in finding a new premises - the vote is unanimous."