Bristol child sex offender Nathan Watson caught in vigilante sting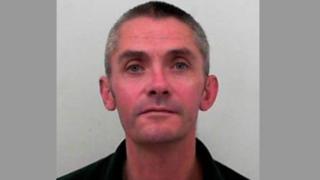 A man has been jailed for 14 months after he was caught by a vigilante group attempting to meet what he believed was a young girl for sexual purposes.
Nathan Watson, 43, of Bristol, admitted sending messages to what he thought was an 11-year-old.
Bristol Crown Court heard she was in fact a member of the group, who filmed their meeting and published it online.
Police warned vigilantes can jeopardise investigations.
Watson pleaded guilty to one charge of attempting to sexually communicate with a child for the purpose of obtaining sexual gratification.
The court heard he arranged to meet the 'girl' at the city's Temple Meads railway station last month but did not show up.
'Serious risk to children'
Instead, the founder of the Internet Interceptors group went to his home and confronted him with evidence of the messages he had sent.
A film of the meeting was posted on the group's website and the police were informed.
Det Con Tony Davey, from Avon and Somerset Police, said officers believed Watson "posed a serious risk" to children.
He said: "We will always robustly investigate any allegation of this nature, but urge members of the public with information to contact us directly instead of taking matters into their own hands.
"This is the only way to ensure justice can be achieved and victims protected.
"Although we are grateful for this information coming to us via the vigilante group, we need to be informed at the earliest opportunity."
A police spokesman added that revealing the identity of suspected paedophiles can give the suspect a chance to destroy evidence and there is a risk of wrongly accusing someone "in a hugely public way".
Watson was also placed on the sex offenders' register for 10 years.