Rugby player Dan Hickey's family in Bristol Half Marathon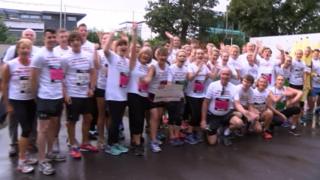 Nearly 70 friends and family of Saracens rugby player Dan Hickey who was killed in a hit and run have raced in the Bristol Half Marathon.
The Leicester University graduate was killed last August, outside the Richmond pub in Gordon Road, Clifton.
His brother Joe Hickey said: "He would be very shocked and very surprised that people would be doing it, because of a lot of us couldn't run at all."
The event saw 10,000 runners run a two-lap race on Sunday morning.
Mr Hickey, added: "It's helped everyone deal with the first year, and bring everyone together much more which is nice.
"He would be very surprised but very pleased."
The Dan Hickey Fund offers grants to people aged 25 and under to develop their sporting and drama skills.
CEO of the Great Run Company, Mark Hollinshead said: "When people enter the event, they put down a reason why they're entering. Some are spine-tingling
"We've got thousands of people running for self-improvement, get fit, lose weight, but the majority are running for charitable causes and to raise money for the things they find important to them."
The winner was James Connor whose time was 01:07:54. The fastest woman runner, Jenny Spink came in with 01:14:58. Stuart Bloor won the wheelchair race.