Bristol City Council to stop large pay-offs for chief exec job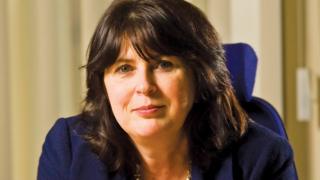 Measures could be introduced by Bristol city councillors to prevent future chief executives being able to walk away with large severance pay packages.
Previous chief executive Nicola Yates was understood to have received a £200,000 pay-off when she left her job in July.
Under possible new terms, the contract would run on a fixed-term basis and performance would be reviewed annually.
However, a final decision could only be made by the full council.
The Human Resources committee, which agreed the measures in principle, currently has no plans to put them before council until more information has been gathered.
Ms Yates was in post for three years and left with "mutual consent" two months after the authority came under Labour-led control.
Earlier this month, the Labour mayor, Marvin Rees, said the decision was "transparent".
This was despite attempts by the BBC and other local media to discover more about the pay-off deal through several Freedom of Information (FoI) requests.
The new arrangement will see a 10% limit to bonuses, which will be withheld if someone is sacked due to poor performance or misconduct.
Another new condition will allow the council to terminate the contract without having to pay the balance of the term.
Currently the chief executive role brings about £177,000, but under the proposed terms the starting salary would be £160,000 and will always be maintained at 10 times the UK Living Wage.
Correction 23 September 2016: This article has been amended to make it clear the proposal is yet to be adopted by the council.