Bristol independent school applies to open free school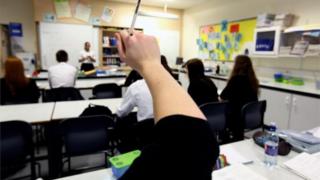 An independent school in Bristol has applied to open a free school in the south of the city, which it says will meet a shortage of places.
Bristol Grammar School wants to sponsor the school which would cater for about 1,000 pupils aged 5 to 16 years old.
Head teacher Rod McKinnon said: "Knowle is going to be an area of need and we know Bristol has a pressure with increased pupil numbers."
The aim is to open the school by September 2019.
'Real enthusiasm'
If given the go-ahead, the establishment would be the first of its kind in the region to be sponsored by an independent school, Mr McKinnon said.
Liberal Democrat leader at Bristol City Council, Gary Hopkins, who has lived in Knowle for more than 20 years, said: "Knowle is an area in particular that needs a new school."
However, he added the plan would need support from the local community.
Free schools were an idea of the coalition government where schools can be set up by parents and independent groups.
They are funded and overseen directly by the Department for Education rather than the Local Education Authority.
Critics of the idea say these types of schools are divisive and contribute to a two-tier education system.
However, Mr McKinnon said: "All the noise we have heard is positive", adding there was "real enthusiasm" for a new secondary school in Knowle.
A meeting is due to be held this week to gather views.