Bristol Zoo 'thrilled' at birth of male pygmy hippo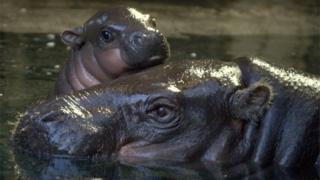 An endangered pygmy hippopotamus has been born at Bristol Zoo eight months after another calf died at five weeks.
The new baby male was born three weeks ago and keepers said they were "particularly thrilled" as fewer male pygmy hippos were born than females.
The zoo said "our new hippo is much stronger and feeding normally" unlike his sister who died of a "very rare condition" in December.
There are fewer than 2,000 pygmy hippos left in the wild.
Keeper Lynsey Bugg said the new baby hippo and his parents, Nato and Sirana, had remained off show to the public to allow them to settle into parenting.
Bristol Zoo is part of an international captive breeding programme because the pygmy hippo is recognised as an endangered species.
Ms Bugg said: "The European programme is a well-established and very successful programme and our male, Nato, is a genetically important animal by default, so will be his offspring.
"We're thrilled to welcome a little boy who will follow in his father's footsteps and play a vital role in the future of this species."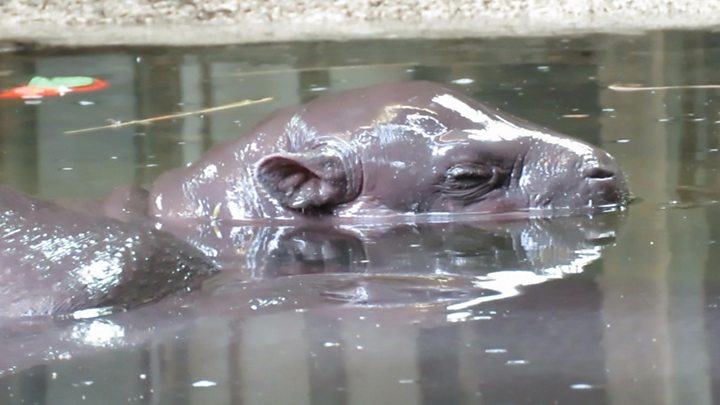 Ms Bugg added: "He spends short periods of time in the water but is not quite as good at swimming as his parents so we often see Sirana guiding her little one back into the shallow water. Young hippos tire easily."
The animals are an endangered species as they face threats from hunting and people destroying the forests they live in.
They only grow to be around 31in (80cm) tall, which is half the height of their cousin the hippopotamus.