Bristol's Prince Street bridge repairs delayed again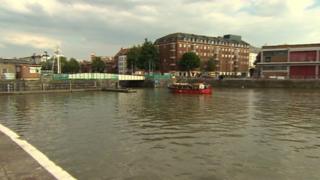 Work to fix a busy bridge in the centre of Bristol has been further delayed and will not open until next year.
The Grade II listed Prince Street bridge was closed in August 2015 for repairs which had been expected to take six months, the council said. Costs have also trebled.
A temporary footbridge was put in place for cyclists and pedestrians but no access made for vehicles.
The city council will discuss later if traffic can use it when it reopens.
Repairs to the "corroded" 137-year-old swing-bridge had initially been expected to take six months and cost £400,000.
Tackle congestion
Following a report to councillors in December, the damage was revealed to be "substantially worse than originally thought" and costs are now estimated to be about £1.2m.
The bridge's closure last year has also been blamed for much of the recent congestion in the city centre.
Mayor Marvin Rees said: "The most important thing is that we properly tackle congestion in the city and look at the big picture.
"Opening it to traffic wouldn't mean we don't value walking and cycling and closing it to traffic wouldn't mean we want to penalise motorists.
"It's got to be about what's right overall for the broader transport network, rather than reacting to one campaign or another."