Bristol University gets £75k to catalogue Oliver Messel archive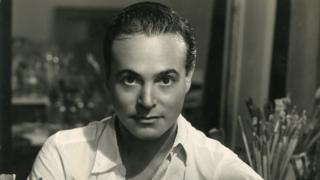 A university has been given £73,000 in lottery funding to catalogue thousands of items belonging to designer Oliver Messel.
Mr Messel, who died in 1978, designed costumes for films including Romeo and Juliet (1936) and was the art director for Caesar and Cleopatra (1945).
The archive of 75,000 items includes letters from John Gielgud and Vivien Leigh and photographs by Cecil Beaton.
The University of Bristol wants to make it available to the public.
Mr Messel was nominated for an Academy Award for his work as production designer for Suddenly Last Summer (1959).
The archive - acquired from his nephew - includes photographs, sketchbooks, costume and set designs, stage and film plans and a selection of plaster casts, masks and costumes.
Jo Elsworth, from the university, said it was a "unique record" of "one of history's greatest theatre designers".
"The archive arrived with us contained in almost 100 boxes, none of them sorted, so it has been an incredible experience for us to open and discover their fabulous contents," she said.
"The next stage of the project is to catalogue and conserve the items and - make the archive available to the public."
Nerys Watts, from the Heritage Lottery Fund, said it was a "magical archive" and the funding would make sure this "remarkable man's story" was known to a wider audience.