Rare fighter plane to be shipped "home" to Bristol from US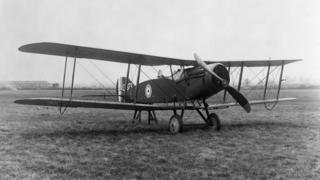 A rare World War One fighter plane discovered in the US, is to be restored and shipped "home" to Bristol.
The Bristol Fighter was produced at Filton and took to the skies for the first time on 9 September 1916. Over the next two years 5,000 were built.
Now the remains of a fighter - found in an Oxfordshire barn in 1965 and sold to an owner in the US - have been acquired by the new Aerospace Bristol museum
The plane, one of only six left in the world, will go on display next year.
The two-seater biplane - known as Brisfit - was used against German fighters during World War One.
Described as the "ultimate fighting machine", it remained in military service until the 1930s.
Oliver Deardon, trustee of the Bristol Aero Collection, said it was "the most famous aircraft of the First World War".
"The whole of the Royal Flying Corp was equipped with Bristol Fighters in the last two years of the First World War," he said.
"Nearly 5,000 were produced and there's about six left in the world - but this one will be at its home and on display in a hangar that was used when it was in production."
Lloyd Burnell, from the Bristol Aero Collection Trust, said it was "absolutely key and an essential exhibit" for the new museum.
"We have a modern replica Bristol Fighter, which was produced in 2010 and that will go on display, but it will be replaced by the original when it comes back to the UK." he said.
The £16m Aerospace Bristol museum - housing the last Concorde to be built and flown - is expected to open in summer 2017.