Aardman Animations celebrates 40 years in Bristol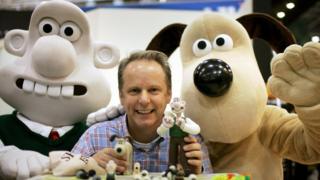 The creators of Wallace and Gromit, Morph and Shaun the Sheep are celebrating 40 years in the animation business.
David Sproxton and Peter Lord started Aardman Animations when they were at school together and opened a studio in Bristol in 1976.
The company has won Oscars for Creature Comforts, The Wrong Trousers, A Close Shave and The Curse of the Were-Rabbit.
Mr Sproxton said they have had an "incredible time" in the city.
He added that they have seen the television industry "change tremendously" since they started the company.
"You have to move on; we have moved on and will continue to move on over the next 40 years."