Police carry out controlled explosion on suspicious car in Bristol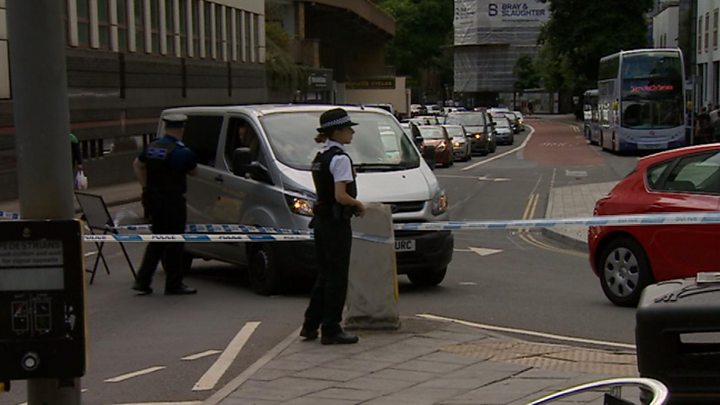 A controlled explosion has been carried on a suspicious car parked outside a Bristol city centre police station.
A Volkswagen Golf was parked illegally outside the Bridewell Police Station and after examination by the Army, was found not to pose any threat.
Two small controlled explosions were carried out on the car to gain access to it.
The vehicle has been removed and efforts are being made to locate the owner.
Road closures put in place in Bristol city centre earlier have now been lifted.
'Loud bang'
Eye witness Rory Sparshott, said: "There was a loud bang about 10 -15 minutes ago (at about 17:00 BST).
"It appears they (the police) were expecting it. It was certainly a big bang, I would be surprised if it was anything other than an explosion."
Police said the car raised suspicion earlier this afternoon by a member of staff at the police station who thought it was "strange" after the car had been left there.
Avon and Somerset Police Chief Supt Jon Reilly said : "The decision to close the roads was not taken lightly and I'd like to thank the public and local traders for their patience and support while we dealt with the matter.
"We take all suspicious incidents seriously and will take all the precautions necessary to ensure the public are safe and feel safe", he added.