Bristol's 38th International Balloon Fiesta gets under way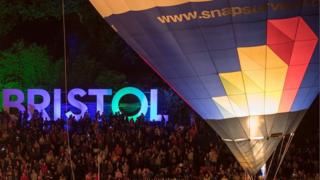 The night sky was lit up as part of Bristol's annual four-day International Balloon Fiesta.
Up to 25 hot air balloons were tethered at Ashton Court on Thursday to take part in the nightglow on the opening day of the festival.
The event, now in its 38th year, is Europe's largest balloon festival.
More than 150 balloons are at the festival, but flights planned for Thursday night and Friday morning were cancelled due to high winds and cloud.
The event is due to run through Sunday with another nightglow and fireworks display planned for Saturday night.