Bristol Labour Party website 'hacked'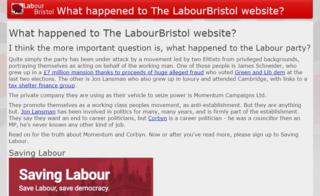 Text on Bristol Labour Party's website has been replaced by with attack on Jeremy Corbyn and his supporters.
The party said it was aware the site had been taken over by its website host who has "turned on them", and they were unable to access it.
The site now reads: "What happened to The LabourBristol website? I think the more important question is, what happened to the Labour party?"
A party spokesman said action was being taken against the person responsible.
"The comments there do not represent the views of the Bristol Labour Party," the spokesman added.
"It's been referred to our compliance and legal team."
'Had enough'
The attack on the hacked website goes on to say Labour Party leader Jeremy Corbyn is "ill equipped to lead the party, let alone be prime minister".
It also attacks the leaders of the Momentum group which supports Mr Corbyn.
The site's owner, Lyle Hopkins, told the BBC he had spent "lots of time and a few thousand pounds" revamping the website. and had tried unsuccessfully to get the local Labour Party to take ownership of it.
He said he had altered it because he had "lost all confidence" in Mr Corbyn and had "had enough". He claimed he had witnessed "first hand at the Bristol West labour party meeting just how unpleasant and aggressive the Momentum activists were".
"I'm no longer willing to support the party with my time and effort as long as Corbyn is leader."