Reward offered after 'vile' racist attack in Bristol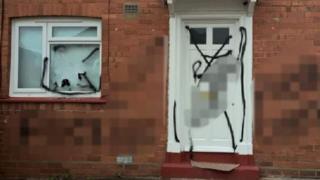 A reward of £1,000 is being offered for information after a series of "vile" racist attacks in Bristol.
Bricks were thrown at windows and racist graffiti sprayed on walls of houses on Bideford Crescent in Filwood earlier in July and again two days ago.
Police said the victims were "not UK nationals" and they were treating the incidents as racially motivated.
Insp Nigel Colston said the families had been left "absolutely terrified" and their young children "traumatised".
Insp Colston said he had been policing the area for the past 10 years and this was the "worst incident I've seen of this behaviour".
He said: "This is is horrible. This is absolutely horrible. It's vile, it's disgusting. It is not acceptable in any shape or form and we don't tolerate it.
"In the first two attacks, the one house was targeted, it had bricks thrown through its window on two occasions.
"On the latest two incidents, which happened just a couple of days ago, there was some horrendous, really vile racist graffiti painted over the walls of the house and both houses had their windows smashed again."
The £1,000 reward, offered by independent charity Crimestoppers, is for any information leading to the arrest and conviction of the offenders.