Rescued firm Bristol Cars unveils first new model in years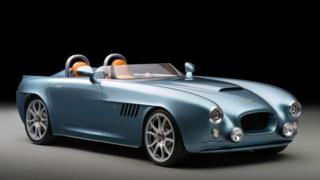 A luxury car manufacturer which was rescued from administration has unveiled its first new model in more than a decade.
Bristol Cars said the two-seater Bullet will go into production next year and cost "under £250,000".
It is the first new model from the company since it launched the two-seater Fighter in 2004.
The firm was rescued by technology company Frazer Nash after it went into administration in 2011.
The hand-made model was built to celebrate the founding of the company 70 years ago and was developed after a prototype was discovered hidden under a tarpaulin in a factory prior to the firm going into administration.
Bristol Cars
The firm has been hand building luxury cars since 1946
It began life as an aeroplane maker - the Bristol Aeroplane Company
Bristol Cars has a single showroom in London
Notable car models include the Fighter and the Blenheim
It was rescued from administration by technology company Frazer Nash in 2011