Man hid veteran's body to set up cannabis factory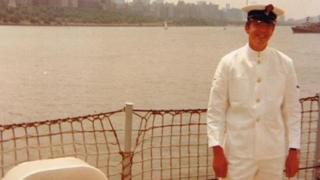 A man who hid the body of a Royal Navy veteran so a cannabis factory could be set up in his home has been jailed.
Paul Jackson, 40, admitted moving the body of his neighbour Nicholas Clark to a yard behind a disused gym near Bristol.
The 63-year-old, who died of natural causes, was found wrapped in tarpaulin when the site was cleared last year.
Jackson, of Charlton Leaze, Patchway, admitted preventing a lawful burial, theft and allowing cannabis production.
He was jailed for three-and-a-half years.
In a police interview he admitting moving Mr Clark and stealing money from his bank account.
Mr Clark's family said in a statement: "It's devastating to know that Nick's body was treated with such crudeness.
"The lack of respect shown by the perpetrators, by setting up a cannabis factory in his personal home while depriving his family of his personal and financial effects, is beyond comprehension."
The court heard Jackson concealed Mr Clark's body under debris at the yard in Gloucester Road, Patchway, which was behind a flat rented by his co-accused, Anthony Whillier.
The 30-year-old, of Royal Victoria Park, Bristol, was given a two-year suspended sentence after admitting cannabis production.
Det Chief Insp Mike Williams, from Avon and Somerset Police, said: "Nick Clark deserved respect for loyally serving his country but after he died from natural causes, his so-called friend and neighbour Paul Jackson treated his body like a piece of rubbish."