Bristol street art festival back for eighth year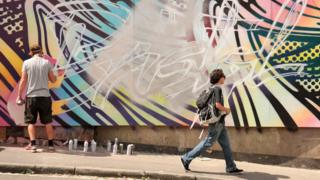 Artists from all over the world have been taking part in a major street art festival in Bristol.
Now in its eighth year, the organisers of Upfest say it is "Europe's largest free, live street and urban art festival".
Much of the art created at Upfest is painted on walls, hoardings, shop shutters and camper vans in front of crowds.
Among the artists taking part are Inkie, Jody, Pichi & Avo and Leon Keer.
Graffiti is painted on temporary hoardings, but murals on some venues - such as the Tobacco Factory and Red Point climbing centre - remain year-round until the next festival.
The team behind the Mr Men and Little Miss book series has partnered up with Upfest to introduce a new member of the Mr Men family, Mr Graff, as part of its 45th anniversary celebrations.
The character, which was designed by Bristol graffiti artist, Cheo, can be spotted armed with a spray can.