Police divers find lost engagement ring in Bristol harbour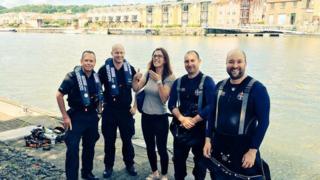 Police divers have found a bride-to-be's engagement ring, two weeks after she dropped it into Bristol harbour.
Nicola Hazell contacted Bristol Harbour Authority on Twitter after losing her silver solitaire ring while out rowing in Bristol docks on 9 July.
The harbourmaster spotted Avon and Somerset Police's dive team on a training exercise there on Friday and challenged them to find the ring.
Miss Hazell was delighted when the divers found the ring just hours later.
She tweeted: "Thank you SO much @ASPolice I can't believe you've reunited me with my engagement ring!! #herosindrysuits #SOhappy."
Avon and Somerset Police's Nick Evans, who led the dive team, said: "We are delighted to have found it for Nicola.
"We can't do this for everyone obviously, but we were here training anyway and we spend a lot of time looking for stolen property and other items, so it was a good challenge for the team."