Bristol's One25 says street sex worker numbers continue to fall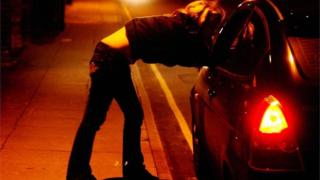 The number of female street sex workers in Bristol is continuing to fall, with "more than a third breaking free last year", a charity has said.
One25 said it helped 59, out of 147, women to leave street sex work in 2015-16. In 2013, there were 169 women on the streets, dropping to 151 in 2014.
Its impact report also showed it had helped 24 women at risk, enabling "all but one" to avoid street sex working.
It comes as the government is being urged to change laws on prostitution.
Gill Nowland, from the charity, said the figures were perhaps surprising when set against a backdrop of rising social inequality.
'Massive reduction'
Ms Nowland said the charity, which operates an outreach service, and drop-in centre, wanted to help women "live a life that we all might take for granted - a safe roof over their heads, reunion with safe members of their family, a chance to explore their potential."
Sandra, a former sex worker, said the charity helped her after she was raped by a client.
She said: "One night on the streets I was raped and he did whatever he wanted to me. After that it really was suicide or accepting help to change my life.
"My One25 caseworker turned up at my squat to take me to rehab and I was absolutely broken. Now my life has changed beyond all recognition."
An Avon and Somerset Police spokesman said the force "worked closely" with One25 to ensure "these vulnerable women" were aware of the support available to them.
He added they encouraged women working in the sex industry to report any offences committed against them so "we can bring offenders to justice".
Earlier this month the Commons Home Affairs Select Committee said soliciting by sex workers should no longer be a crime.
It raised concerns that treating soliciting as an offence can prevent sex workers from seeking help to leave prostitution, and expose them to abuse and violence.