Bristol Black Lives Matter protest attracts 1,000 protestors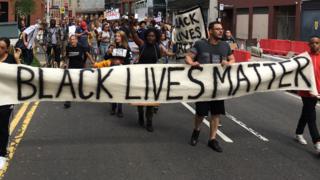 About 1,000 people have marched through Bristol in support of the Black Lives Matter movement.
The demonstration met at the Malcolm X centre in St Pauls, before marching through Stokes Croft into the city centre.
Many chanted "Black Lives Matter" as they marched.
The protest was in response to the fatal shootings of Philando Castile and Alton Sterling by police in the US.
Bristol Stand Up tweeted: "Today is the day #Bristol let's show our love and support", and said it would be a "peaceful march".
BBC reporter Scott Ellis said the march had been organised at the last minute through social media and the turnout was much bigger than expected.
"There was a powerful sentiment behind it; it's not just that it happened in the US, people felt the injustice and dissatisfaction in their lives here," he said.
The march follows two separate Black Lives Matter protests in London attended by hundreds of people.