Nobel prize winner next Bristol university chancellor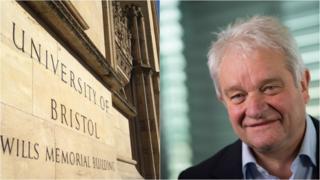 Sir Paul Nurse, a Nobel Prize-winning scientist has been named as the next chancellor of the University of Bristol.
The geneticist and cell biologist will succeed Baroness Hale, who has been chancellor since 2004.
Sir Paul said he was "delighted to be appointed".
"Bristol is a university I have long admired: high quality research, great students and excellent academics on its staff."
"Universities have a huge role to play in providing knowledge and thought leadership as we develop a future Britain. I see Bristol at the forefront of that challenge and I look forward to working with them through it."
The former President of the Royal Society was jointly awarded the Nobel Prize for Physiology or Medicine in 2001 for his work on the discovery of molecules that regulate the cell cycle.
Vice-chancellor Prof Hugh Brady said it was a "huge honour" for the university.
"He [Sir Paul] has an unrivalled standing in the scientific community, in this country and across the world. He will be a great inspiration for our staff and students."
Previous chancellors of Bristol University include Sir Winston Churchill and Nobel Prize-winning scientist Prof Dorothy Hodgkin.