Bristol's Colston Hall given anonymous £500k donation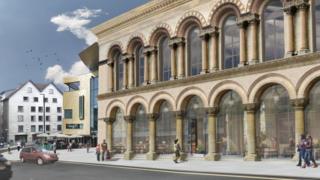 An anonymous donation of £500,000 has been given to a concert venue in Bristol.
The money will go towards the planned £45m redevelopment of the Colston Hall.
Louise Mitchell, from the hall, said they were "grateful for this incredibly generous donation" made by a local family trust.
The 150-year-old music venue is Bristol's largest and is in need of internal modernisation, with plans to convert the cellars into studios.
Since the fundraising campaign was launched in September 2014, £25m has been pledged by Bristol City Council, the government and Arts Council England.
Ms Mitchell said: "So far, our campaign has resulted in £25m of support from public sources.
"Having this backing means that we can show confidence in the project and demonstrate its viability, which makes it easier to attract funding from the private sector."
She said they were planning further fundraising initiatives towards final target.
The aims of the redevelopment include an "inclusive music education programme" and the creation of a "world class entertainment venue".
It is hoped work will begin next year and completed by 2019/20.