Bristol Zoo's C-section baby gorilla can be 'very stroppy'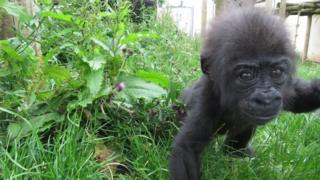 A baby gorilla born in a C-section operation at Bristol Zoo is now 20 weeks old and according to her keepers can be "very stroppy".
The Western Lowland gorilla was born early in February after her mother showed signs of the potentially dangerous condition pre-eclampsia.
She was named Afia and has just cut her eighth tooth, with her favourite foods being avocado and steamed sweet potato.
Her keepers say she is "extremely determined with a strong personality".