Bristol Grand Appeal to offer free beds to sick children's parents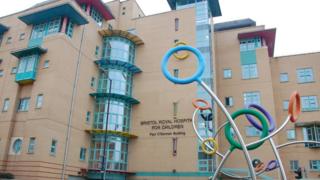 A £1.5m fund-raising appeal to offer free accommodation to families of sick children at Bristol's Royal Hospital for Children has begun.
The Grand Appeal charity supports sick babies and children at the hospital and the special care baby unit at St Michael's Hospital.
The new accommodation will support about 150 families from Bristol, the South West and Wales each year.
The charity aims to be ready for the first families to stay in January 2017.
The accommodation will be a mix of self-contained flats and en-suite bedrooms, as well as kitchens, living rooms and laundry facilities.
Bristol Children's Hospital provides treatment and care for up to 100,000 sick babies and children a year.
Nicola Masters, director of The Grand Appeal, said: "When a child is sick, their parents need somewhere to stay close to the hospital so that they are always on hand to provide the love, familiarity and reassurance that is clinically proven to aid a child's recovery."
The Grand Appeal already funds Cots for Tots House for parents of babies in the neonatal intensive care unit at St Michael's Hospital.
It has hosted families from Cornwall and Scotland in the past four years.
Joe Spurgeon and Elly Salisbury from Totterdown in Bristol stayed at Cots for Tots House for eight weeks when their twins Jay and Cormac were born three months prematurely.
Jay died at four days old, and Cormac was diagnosed with chronic lung disease.
Mr Spurgeon said: "After Jay died being close to Cormac felt essential. Despite only living in Totterdown, we just needed to be near the hospital as his condition could have changed within minutes.
"If we hadn't been lucky enough to be given a room I don't know what we would have done."