Model guilty of murder of millionaire ex-boyfriend Andrew Bush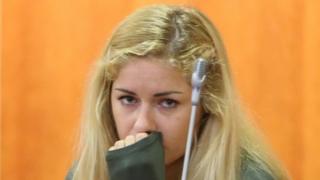 A swimwear model has been found guilty of killing her British millionaire ex-boyfriend at his home in Spain.
Mayka Marica Kukucova, 26, from Slovakia, killed Bristol businessman Andrew Bush, 48, at his mansion near Marbella on the Costa del Sol in April 2014.
Prosecutors at the Ciudad de la Justicia in Malaga told the court he died after being shot three times; once in the shoulder and twice in the head.
Kukucova did not enter a formal plea.
The court heard Mr Bush returned to his luxury villa near Marbella on 4 April 2014, with his new girlfriend Maria Korotaeva, while Kukucova was collecting her belongings.
The jury was told there had been a violent struggle moments before Mr Bush's death
During the trial Kukucova claimed that "shots were fired" during the fight but denied murder.
Mr Bush, who ran a jewellery business in Bristol, met Kukucova when she worked in his shop.
Kukucova told the court they were together for two-and-a-half years but the relationship had broken down around six months before Mr Bush died.
Mr Bush's 21-year-old daughter Ellie Mason-Bush told the court: "He was my only parent growing up. He was the only person that I had."
She said that even though her father and Kukucova had separated, "he was still supporting her and still wanted to help her".
Andrew Bush was known for his keen interest in cars and Kukucova used his Hummer to make her getaway on the night she killed him.
She then handed herself in to the Slovakian authorities several days later, where she was detained before being extradited to Spain.
Prosecutors were said to be seeking a sentence of up to 25 years for the murder.