Bereaved family's success in new trailer safety rules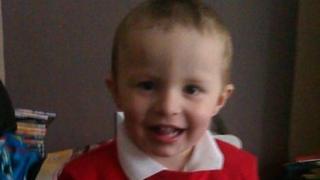 A family has successfully pushed for new safety guidelines on trailers after their son was fatally crushed in an accident.
In January 2014, Freddie Hussey from Bristol was walking on Parson Street when a trailer towed by a Land Rover came loose and killed him on impact.
Freddie's parents Donna and Scott said: "We are not celebrating these changes but we are really pleased."
Their campaign has been supported by Bristol South Labour MP Karin Smyth.
The driver of the Land Rover, Tony Davies, 37, from Hallen, was originally charged with manslaughter and causing death by dangerous driving but the manslaughter charge was later dropped.
He was ordered to carry out 200 hours of community service for causing Freddie Hussey's death through careless driving.
He was also disqualified from driving for six months.
Mr and Mrs Hussey, from Bedminster, called the sentence a "joke".
The Husseys said the new guidelines "represent major progress on a vital safety concern that is far more widespread than has previously been recognised at government level".
'Tragic death'
The changes involve updating the Driver and Vehicle Safety Agency (DVSA) guidelines to heighten awareness of trailer roadworthiness.
The new guidelines have also been issued online and are being sent to businesses that use trailers regularly.
Transport Minister Andrew Jones is also pushing for secure fitting and roadworthiness of trailers to be considered when sentencing drivers.
A new government safety campaign will run in the summer and a new DVSA video on how to carry out safety checks on trailers and attach them securely to a vehicle is also being made.
Ms Smyth said: "These are significant concessions by the government which are primarily a tribute to the work of Scott and Donna Hussey to ensure some good might come from their son's tragic death.
"The local community which has supported them through incredibly difficult times also deserves great credit."