Would-be ATM thief jailed for two years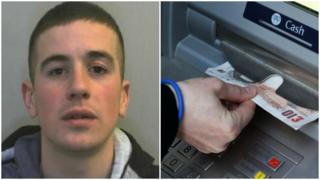 A man has been jailed for two years after being found guilty of attempting to steal cash from an ATM.
Ross Terry, 26, of Arnall Drive, Henbury, Bristol, used a crowbar to try and force open a cash machine at a service station on Badminton Road in Downend, last August.
He was caught after he left a dustpan and brush at the scene and police discovered his fingerprint.
Police said he failed to steal any money from the ATM.
Terry fled the scene after an alarm went off, leaving behind a number of items.
Following a forensic analysis of the dustpan and brush police discovered a fingerprint which matched Terry's. His car was also seen driving round the area at the time.
PC Gemma Crew said: "Terry attempted to steal the cash inside the ATM and failed.
"He then tried to deny being involved in the attack, despite being forensically linked to the scene, but the jury saw through his lies and convicted him."