Tesco Express Yate cash machine blown up by thieves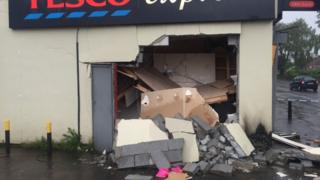 Thieves have blown up a cash machine in Yate, near Bristol, overnight in the seventh attack on an ATM in the area since the start of the year.
One witness, Mark, told BBC Radio Bristol he was "woken by an explosion" at about 03.20 BST as the thieves tried to steal the machine on Station Road.
Avon and Somerset Police said: "A full and thorough investigation into this attack is being carried out."
Police said they had not linked this latest attack to the others.
"Our enquiries are at a very early stage and we remain open minded," the spokesman added.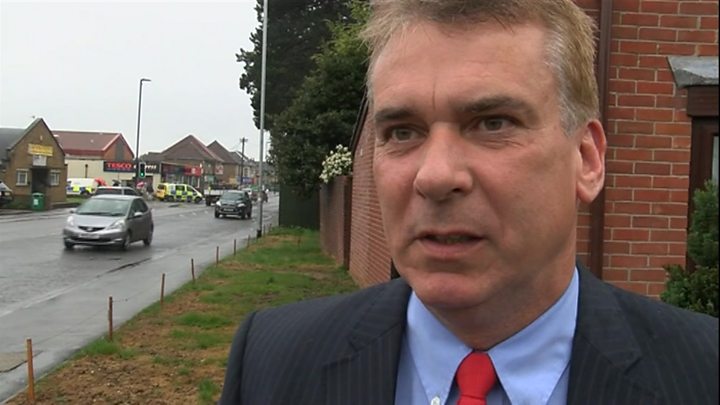 "It was a big blast," Mark told BBC Radio Bristol.
"We woke up a bit startled and the cat jumped off the bed. My neighbour's windows have been damaged.
"The whole of the side of Tesco is blown out."
---
The raid in Yate is the latest in several attacks on cash machines in the area
8 May - Cash machine blown up at the Co-op store in Long Ashton. Second time in a month the machine is attacked
5 May - Two cash machines in Winterbourne attacked by criminals using explosive gases to blast them apart and take money from the safe inside
26 April - Post office in Shirehampton badly damaged by thieves targeting a cash machine
22 April - Four men sought over attacks on cash machines on North Road and Sion Road in Bath
6 April - Attack on cash machine at the Co-Op in Long Ashton
---
Peter Forster-Dark said he woke up when he heard "a loud bang".
"I saw a vehicle and a couple of guys running around then more neighbours came out and one guy shouted 'Quick people are coming' and they jumped into the car out front and drove off."